Waco Music Friendly Designation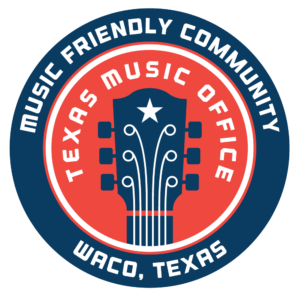 On July 30, 2020 the State of Texas certified Waco as the twelfth Texas city designated as a "Music Friendly Community".  Participation in the program establishes a public reputation for Waco as a community that not only has a growing and thriving music scene but as a community that promotes what we have here. It connects Waco with the Texas Music Office (TMO) and the programming and initiatives that can benefit our community. What we do in Waco will be amplified through the TMO's social media, website, and channels. It allows us to work more closely with other Music Friendly Communities to see what is working and allows us to be innovative leaders in how we cultivate and support our music community.
The designation was the result of a year of hard work by a grassroots local group including Katie Selman of Keep Waco Loud, Lindsay Liepman of Channel 25, Fiona Bond of Creative Waco, and the Director of the Waco Convention & Visitors Bureau (CVB). The group held a workshop in August 2019 where artists and professionals representing various styles of music gathered to support seeking the designation. The gathering was the largest workshop of its kind in Texas, with well over 100 attending.
Waco now has a trifecta of special designations awarded by the State of Texas: the Waco Downtown Cultural District, Film Friendly Community, and now Music Friendly Community. These designations indicate that Waco wants to attract activity in these sectors, and supports these important parts of the Waco economy.
Waco Music Industry Directory
Thanks to Katie Selman of Keep Waco Loud, who compiled the initial database. This is a listing of musicians and music industry companies located in McLennan County.
Music Directory Submission Form – Use this form to add or update listings.
 
A sortable, searchable, list of Waco area music professionals.
Business / Band Name
Solo Artist or Contact Name
Title / Specialty / Instruments
Description of Services
Genre
Phone Number
Email
For More Information
Date Submitted
Andy Maguire
Andy Maguire
Recording Artist, Piano, Guitar, Voice, Song writer, audio engineer, video production
Working Musician
Eclectic; rock, classic popular styles (no Texas music or Hip Hop)
(719) 332-2315
amaguire0107@gmail.com
I am a Waco native, local musician, and artist, looking to book shows to support the recent release of my album, "Light Of The Moon" along with a music video and subsequent singles, and videos. My current set is very simple; solo piano and vocals with some acoustic guitar. Disclaimer: My music is family-friendly and mellow for the most part, but very eclectic with elements of rock, jazz, and classic popular styles.

andymaguiremusic.com
socials@andymaguiremusic (IG, FB, Tik-tok)
06/17/2023
Mason Hays
Mason Hays
Singer-Songwriter, Solo artist, bass, guitar
Working Musician
Country, Blues
254-715-7962
Masonhaysbooking@gmail.com
Instagram
Facebook
Twitter
Madstone Band
James Madstone
Working Musician
Country Rock, Red Dirt, Classic Rock, Southern Rock
805-434-1111
james@accountcraft.com
Madstone is available for 3 and 4 hour venues. We are professional, show up on time, do not do drugs or drink much more than a few beers. We provide all our own gear and promise a high energy fun time for everybody. We play a mix of swing blues originals, country, red dirt, southern and classic rock.
Music Association of Central Texas
Organization / Resource
254-661-9270

mactprez1@gmail.com

https://mact.wildapricot.org/
Facebook
Shawtime Productions
Troy Shaw
Executive Producer / President

Production Company 

254-214-1555

shawtimeproductions@gmail.com

http://www.shawtimeproductions.com/


A creative collective and boutique production company with a strong focus on producing short films, music videos, tv commercials, promos,and branded content.

Retro Rose II
Tom "Top" Clark
Guitar, Harmonica, Vocals, Banjo, Ukelele
Working Musician
Rock, Blues, American, Original Songs
254-664-9270
mactprez1@gmail.com
The Union Revival
Aaron and Amanda Konzelman
Working Musicians
Folk / Americana

aaron@theunionrevival.com

http://theunionrevival.com/
Facebook
Instagram
You Tube
Candid Images Photography
Becky Stinehour
Live Music Photographer / Camera
Other
Live Music Photography
254-368-1828
Becky@candidimagesphoto.com
Stephany A-Chavira Music
Stephany A-Chavira
Guitar / Vocals
Working Musician
All
254-523-5151
stephanychavira1120@gmail.com
Cover artists for live music venues
Hendrix Productions LLC
Chance Hendrix
Owner / Sound Engineer
Sound and Lighting
All
254-855-6022
Hendrixproductionsllc@gmail.com
Sound, stage, lighting, and backline company. Can take care of corporate events and private parties to hometown venues and music festivals. Call, text or email for information.
Stumblin' Jaxon
Lee VanWagner
Guitar / Mandolin
Working Musician
Americana
254-424-7539
stumblin_jaxon@yahoo.com
The Soundwaves
Jon Holt
Guitar / Vocals
Working Musician
Various, Contemporary Alternative Rock
254-913-5867
theofficialsoundwaves@gmail.com
Just a Little Different
Justin Derrington
Writer / Performer / Arranger
Working Musician
Multiple
254-978-1588
Pmkclothing@yahoo.com
Central Texas Choral Society
David Guess
Artistic Director
Working Musician
Community Choir
(254) 717-4736
centexchoralsociety@gmail.com
https://www.centraltexaschoralsociety.org/
Crowder
David Crowder Contact: Shelley Giglio
Contemporary Christian
678-366-9192

info@sixstepsrecords.com

http://www.crowdermusic.com/

Facebook
Kaley Caperton
Kaley Caperton
Country / Folk / Acoustic
254-836-1690 • 254-722-0444
kaleycaperton@gmail.com
Business Contact: Sue Caperton
https://www.facebook.com/KaleyCapertonMusic/
Branded Heart
Donnie Berger
Country / Pop / Rock
254-424-4794
dwbmusician@grandecom.net
https://www.thebash.com/cover-band/branded-heart
The Bill and Phil Show
Bill Hunter / Phil Wilson
Folks / Acoustic / Pop / Rock
254- 722-8851 • 254-315-3004
https://www.facebook.com/commongroundTX
Mack Abernathy
Mack Abernathy
Singer Songwriter / Guitar
Working Musician
Country, Western Swing
254-836-0734
info@mackabernathy.com
http://www.mackabernathy.com/
Dustin Terral & Lost Heart Highway
Dustin Terral
Acoustic Guitar, Vocals
Working Musican
Country, Southern Rock
254-644-2345
 Dustinterral@yahoo.com 
Nate Breezy
Nate Breezy
Singer
Working Musician
R&B, Jazz
254-447-2772

Booknatebreezy@gmail.com

https://www.facebook.com/nate.barnes.7359
https://www.instagram.com/officialnatebreezy/
Frank Exum
Frank Exum
Solo Guitarist

Working Musician

Classical, Spanish, Brazillian, Renaissance, Baroque, Romantic, etc
254-644-6681
exumguitarstudio@gmail.com
https://www.facebook.com/frankexumsologuitarist
Run for Cover
Kerry Wheeler
Guitar

Working Musician

Classic Rock, Modern Rock, Southern Rock
254-640-5034
Brazos Brothers
Paul Garcia
Acoustic Duo
Country, Classic Rock, Pop, 80's/90's/Current, Standards
254-749-2123
https://www.facebook.com/BrazosBrothers
Avery Woodruff
Avery Woodruff
Guitar, Vocals

Working Musician

Country
254-749-1034
  holidaymgt@outlook.com
https://www.facebook.com/AveryWoodruffMusic


Instagram - @AveryWoodruffMusic

North of Navasota
Chris Gore
Bass Guitar

Working Musician

Modern Rock, Alt Rock, Grunge
254-315-5590
Northofnavasota@yahoo.com

North of Navasota is a Waco based Rock, Alt-Rock, Post Grunge band.


https://www.facebook.com/northofnavasota

4DB
Matt Garretson
Drums

Working Musician

Metal, Rock, Alternative
Mattgarretson47@gmail.com
https://www.facebook.com/4dirtybastards
Fenix Theory, Eric & Thomas Unplugged
Eric Huggins
Vocals
Working Musician
Various
254-498-7088
Hugginsmusictx@gmail.com
Solo - https://www.facebook.com/Eric-Huggins-Music-187591741266167/
Duo - https://www.facebook.com/EricandThomas/
Full Band - https://www.facebook.com/fenixtheory/
Elvis Tribute Artist
John Cobb
Vocals
Working Musician
Elvis
254-534-0912

johnecobbeta@gmail.com

https://www.facebook.com/JohnCobb85
Redneck Rockstars
JD Johnson
Rhythm guitar, bass, vocals
Working Musician
Country, Rock
254-447-4012
Michael Saldana
Michael Saldana
Vocals, Guitar

Working Musician

Texas Country, Red Dirt, Rock, Oldies
254-722-4224
bettyjolewis1@yahoo.com
https://www.facebook.com/michaelsaldanawaco
CaCean Ballou and The DirtyCrawfish
CaCean Ballou
Bass, Drums, Guitar, Jack of all trades
Working Musician
Rock, Country, Blues, R&B, Oldies, etc.
214-791-1244
dirtycrawfish75@gmail.com
https://www.facebook.com/cean.ballou
Jennifer Pisarcik (JP)
Jennifer Pisarcik (JP)
Singer, Duo

Working Musician

Various
jenniferpisarcik@gmail.com
https://www.facebook.com/PISARCIKJENNIFER

Gary GT Taylor
Gary GT Taylor
Guitar, Vocals

Working Musician

Rock, Folk, Country, Various
254-426-6536
gtaylor316.gt@gmail.com
https://www.facebook.com/Musings-and-music-by-GT-105401414458138
David Doran
David Doran
Guitar, Baritone Guitar, Mando

Working Musician

Various
254-855-4762
soulchemist@gmail.com
Guitar Player for hire - https://www.facebook.com/david.doran.752
Trey Stephenson
Trey Stephenson
Guitar, Vocals
Working Musician
Country, Southern Rock
254-242-5564
Treystph93@icloud.com
https://www.facebook.com/TreyStephensonMusic/
Jonna Mae & The Maeflies
Jonna Mae
Mando, Guitar, Vocals

Working Musician

Americana, Country, Folk, Blues
970-401-3395
bookjonnamae@gmail.com
https://www.facebook.com/jonnamaemusic
The Damn Moore Boys, Sparkle Motion!, Tired, Grackles
Beau Robbins
Drummer, bassist, vocalist
Working Musician
Various
254-493-2691
beeowl237@gmail.com
I've been playing in bands here in Waco for over a decade ranging from country, rock, hip-hop, experimental, and just about anything I can get my hands on.
Sparkle Motion!
Ryan Castillo
Guitarist
Working Musician
Alternative
254-339-7993
ryanblakecastillo@gmail.com
Steven Scheifley
Steven Scheifley
Drummer
Working Musician
Various
254-224-1438
slsdrums@yahoo.com
Drummer for various groups including Shane Howard Band, Waco Jazz Orchestra, Byron Swann Band, Max & Lynnette, $5 Shake and Lynn Woolley as well as for the Sunday worship services at Lorena UMC.
Enoc Hernandez
Enoc Hernandez
Recording Engineer/Musician/Producer
Recording Services & Studios
Various
254-652-6923
enoc.hernandez.LS@gmail.com
I am a graduate student from the MCC Audio Engineering program and work with local artist in producing and/or recording their original songs.
Zack Zajicek
Zack Zajicek
Drummer
Working Musician
Various
254-981-9711
zackzajicek@gmail.com
I've been a drummer in the Waco music scene since 2016, and I also have experience playing in symphonic bands, musicals, orchestras, and percussion ensembles.
Branded Cross
Kenneth Paschal
Drummer
Working Musician
Country Gospel
254-625-0562
brandedcrossmusic@yahoo.com
www.BrandedCross.com Facebook@BrandedCrossMusic Country Gospel Music Music available on ITunes and other music outlets
ApolloSound Sound Engineering
Aaron McLean
Owner/Engineer
Recording Services & Studios
Hip Hop
254-424-3020
apollosoundengineering@gmail.com
All the music we make is hip hop focused, although I record any kind of music in my studio.
Franco the Bull
Austin Klatt
Guitar, Vocals
Working Musician
Rock, Alternative
254-624-7257
austinaklatt@gmail.com
A two piece act somewhere between post rock, dream pop, and shoegaze.
Thomas Csorba
Thomas Csorba
Singer, Songwriter
Working Musician
Americana
713-805-9078
thomascsorbamusic@gmail.com
Americana Music! www.thomascsorba.com
TWM Entertainment
Tommy Morriss
Owner, Booking Agent
Music Promotions
Texas Country
254-749-0726
tommy.morriss@yahoo.com
https://www.facebook.com/tmorriss83
Jenn Jung
Jenn Jung
Sound / Booking Agent / Production
Sound & Lighting
Various
254-723-2936
jenniferannejung@gmail.com
I have a degree in Venue and Talent Management with live sound.
Darwynn Nail
Darwynn Nail
Guitar, Vocals
Working Musician
Country, Various
254-366-2386
ndarwynn@yahoo.com
https://www.facebook.com/Darwynn-Nail-Texas-Country-SingerComposer-206999699355767
Storm Simpson
Storm Simpson
Bass player
Working Musician
Rock, Country, Americana, Metal
254-229-1790
Aceofbass1977@gmail.com
I play rock, country, Americana and Metal..
Keep Waco Loud
Katie Selman
Co-Founder
Music Promotions
Various
770-866-4130
Katie@Keepwacoloud.com
https://www.keepwacoloud.com/
Galleywinter
Brad Beheler
Promoter / Writer / Talent Buyer
Music Promotions
Various
brad.beheler@gmail.com
Galleywinter is a Texas Music tradition of writing, podcasting and concert promotion dating back to 1999. We are headquartered in Waco, TX. https://galleywinter.com/
Dirty Echoes
Chris Ermoian
Guitar, Vocals
Working Musician
Various
254-495-5718
booking@dirtyechoes.com
Dirty Echoes is a power-pop band based out of Waco, Texas featuring Chris Ermoian (vocals/guitar), Casey Pittman (vocals/guitar), Jeremy Gautier (vocals/drums) and Beau Green (bass).
E-Cleff Productions, Inc. (Texas Music Cafe)
Chris Ermoian
President
Recording Services & Studios
Various
254-495-5718
info@texasmusiccafe.com
TV, radio, and internet variety music programming featuring national, regional, and local performers of original music.
texasmusiccafe.com
Spin Connection
Joshua Wojciechowski
Co-Owner
Record Store/Live Music Venue
Various
254-717-0586
jmwojthr5@gmail.com
We are passionate about music and want to continue to see Waco artists grow.
Another Band of Gypsys
TJ Bell
Lead Guitar, Vocals
Working Musician
Rock, Blues, Various
254-292-3929
tjakajimi@yahoo.com
https://youtu.be/gCKVCYyz0SI
King Country
Greg Latham
Lead Guitar & Vocals
Working Musician
Alternative
832-444-0802
kingcountryattacks@gmail.com
We consider ourselves "Heavy Texas" or some combination of garage & psychedelic rock with Texas flair.
KC
Casey Kirven
Rapper
Working Musician
Rap
254-424-8216
caseyekirven22@icloud.com
I am a rapper/musician in the waco area
Oniichan Productions
Mike Hamilton
Owner
Recording Services & Studios
Various
254-379-0904
mrh0504@gmail.com

local podcasts, web/graphic design, streaming media, jack of all trades

Zet Zero
Cory Zimmerman
Bass, Guitar, Vocals
Working Musician
Rock, Alternative
254-339-6060
zetzeroband@gmail.com
Zet Zero is a 3 piece original post punk revival band, we play mostly in Waco and want to see the scene grow!!
Gerald Wilburn Jr
Gerald Wilburn Jr
Saxophone
Working Musician
Jazz, R&B, Hip Hop
254-400-9986
wilburnjrg@yahoo.com
My stage name is Saxy G. I play the alto saxophone, I play multiple genres, but my favorites are Jazz, R&B, and Hip Hop.
Instagram @saxyg
The Fox and the Crow
Thurman Brown
Guitar, Vocals
Working Musician
Americana
254-640-4481
jthurmanbrown@gmail.com
https://www.facebook.com/thefoxandthecrowofficial/
PhD Pedals
Corey Hackworth
Guitar/Bass Pedals
Custom Pedals - Gear Tech
Various
319-512-2169
phdpedals@gmail.com
Based in Waco - Hand-made boutique effect pedals for guitar and bass. Analog dirt.
Waco Symphony Orchestra and Baylor Symphony Orchestra
Stephen Heyde
Waco Symphony Music Director and Conductor; Conductor in Residence at Baylor University.
Working Musician
Classical
254-744-2976
Stephen_Heyde@baylor.edu
https://www.wacosymphony.com/
Dr. Michael Alexander
Dr. Michael Alexander
Cello, Strings
Working Musician
Classical, Various
254-710-6579
Michael_L_Alexander@Baylor.edu
I am a Cellist and Conductor of orchestral music.
Lorena ISD
Brooke Arellano
Choir/Voice Teacher
Non Profit (501c3) Music Program
Classical, Various
254-723-1102
brookearellano@lorenaisd.net
Elementary Music, Middle School Choir Director and High School Choir Director
Baylor University and Latitude 49
Jani Parsons
Executive Director, Pianist
Music Related University or College Program
Classical, Progressive
734-358-0227
janiannparsons@gmail.com
https://www.latitude49music.com/
Youth Chorus of Central Texas
Florence Scattergood
Choir Director
Non Profit (501c3) Music Program
Classical, Various
254-744-5266
fscattergood@gmail.com
http://youthchorusofcentraltexas.org/
Patrick Kelly
Patrick Kelly
Guitar
Working Musician
Jazz, Various
254-412-4273
kellypatrick067@gmail.com
https://www.baylor.edu/music/index.php?id=955472
Stephen Gusukuma
Stephen Gusukuma
Lecturer in Choral Music
Music Instructor
Classical
254-710-3565
Stephen_Gusukuma@baylor.edu
https://www.baylor.edu/music/index.php?id=952999
Jennifer Lopez
Jennifer Lopez
Singer
Music Related University or College Program
R&B, Alternative
254-548-9561
jennifercitlalilopez@gmail.com
I sing a lot of R&B and alternative music. 🙂
Prince Alfaro
Prince Alfaro
Trumpeter
Music Related University or College Program
Classical, Various
254-301-8112
prince.alfaro@yahoo.com
https://www.facebook.com/prince.alfaro.5
Beau Benson
Beau Benson
Guitar
Working Musician
Classical, Various
214-912-4391
bbenson81@hotmail.com
Conductor, teacher, composer, etc.
Dave Wild Trio
Dave Wild
Piano
Working Musician
Jazz, Various
254-741-6450
dawild@att.net
https://www.facebook.com/davewildjazz
Anthony Suter
Anthony Suter
Saxophonist, Waco community band
Non Profit (501c3) Music Program
Classical, Various
361-696-1515
saxtactical@gmail.com
https://www.facebook.com/porkrindtony
Edgar Sierra
Edgar Sierra
Adjunct instructor/ voice teacher
Music Instructor
Various
254-495-4070
ed.sierra7@gmail.com
Adjunct instructor at MCC and voice teacher for local high schools.
Far From Reach
Michael Johnson
Guitar Player - Lead
Working Musician
Rock, Various
254-379-1003
digitalbee414@aol.com
I play Lead Guitar for Far From Reach.
Far From Reach
Lenny Monaghan
Guitar player
Working Musician
Rock, Various
254-730-0917
lbm254mma@gmail.com
Far From Reach is a local band. We play original rock and covers.
Far From Reach
Cassie Schwake
Singer
Working Musician
Rock, Various
254-733-0753
schwakec@yahoo.com
Alt rock/bluesy rock band from Waco. Founded in 2018
McLennan College
Jon Conrad
Director of Bands
Music Related University or College Program
Classical or Commercial, Various
254-299-8220
jconrad@mclennan.edu
https://www.mclennan.edu/music/Music%20Faculty/j-conrad.html
Direct Resonance Recording Studio, LLC
Steven & Kayla Rosas
Chief Audio Engineer/Owner
Recording Studio
Various
254-756-1815
steven@drsrecording.com
https://www.drsrecording.com/
Waco Symphony
Michael Bracken
Marketing Director
Other
Classical
254-754-2825
Marketing@WacoSymphony.com
https://www.wacosymphony.com/
Kris Hunter
Kris Hunter
Bassist
Working Musician
Rock
254-640-3657
krisfaction@gmail.com
Giovanni Tha King
Giovanni King
Artist
Working Musician
Rap
512-566-2701
Giovannithaking@gmail.com
https://www.facebook.com/pages/category/Musician-Band/GIOVANNI-THA-KING-Waco-TX-132056380165415/
Roger Vasquez
Roger Vasquez
Bassist
Working Musician
Various
512-731-7713
centraltexastalent@hotmail.com
https://www.reverbnation.com/RogerVasquez
Shade Steele
Shade Steele
Bass Guitar, Songwriter
Working Musician
Various
254-230-7276
shadesteele@outlook.com
I play bass guitar, write songs, among other things. I play multiple genres including blues, country, alternative/indie, and rock.
Heath Nash
Heath Nash
Rapper
Working Musician
Rap
254-229-2723
est4life19xx.yn@gmail.com
https://www.facebook.com/IamHeathNash/
Nathan Price
Nathan Price
Drummer
Working Musician
Various
254-265-1597
nate_25@live.com
https://www.facebook.com/pg/thefoxandthecrowofficial/
Holly Tucker LLC
Holly Tucker
Artist, Entertainer, Singer, Songwriter
Working Musician
Country
254-723-8087
shane@hollytucker.com
https://www.hollytucker.com/
Loaded Sound, LLC
IV Williams
Audio/Visual
Sound & Lighting
Various
254-300-3796
loadedsound@yahoo.com
https://www.loadedsound.com/
Nawf Lxrds
D'Javion Robinson
Rapper
Working Musician
Rap
254-717-1935
nawflxrds2500@gmail.com
https://www.facebook.com/watch/NawfLxrds25/
Morgan Lee Powers
Morgan Powers
Singer - Songwriter
Working Musician
Country
254-981-4144
morganlpowers@gmail.com
17 year old singer songwriter from Waco Texas.
TexasT Ent.
Thomas Carrizales
DJ
DJ
Various
254-301-6405
texast2517.tc@gmail.com
I'm Resident Dj at BSR Cable Park.
Blame it on Nicholas
Nicholas Romo
Rapper
Working Musician
Rap
254-652-4869
ricknomo87@gmail.com
https://www.facebook.com/BION87/
BreadCampDjs
Devin Patton
DJ
DJ
Various
254-722-1197
djcyse@gmail.com
https://www.facebook.com/breadcampdjs/
Waco Live Music Scene
Waco Live Music Scene
Organization / Resource
251-507-5005
Facebook
Website
PGA
Geobani Betancourt
Cover band, guitar, piano/keys, saxophone
Working Musician
Rock, alternative, indie, jazz, hip hop
(254) 749-8729
geobani27@yahoo.com
Borek Luke
Luke Borek Osicka
Writer-Musician
Working Musician
boreklukemusic@gmail.com
https://borekluke.bandcamp.com
Jeremy's Vibe
Jeremy aka Daniel Sapphire
Vocals / Percussion/ Producer
Working Musician
Indie / NeoSoul / blues
254-715-1696
jeremysvibrations@gmail.com
https://www.facebook.com/danielsapphire8
Helena
Helena Boone
Sunth sounds and harmonies
Working Musician
Lullaby Pop
(214) 517-3949
Helena.a.lynch@gmail.com
For more information, please visit: helenalynchmusic.wixsite.com

Or email Helena at: helena.a.lynch@gmail.com
Larissa Boyd
Larissa Boyd
Vocals / Guitar
Texas Country, Red Dirt, Classic Country, Original Music
(254) 707-0061
2timboyd@gmail.com
Katie Stewart
Katie Stewart
Acoustic guitar / classical piano
Working Musician
Americana
817-504-0570
k.lynnstewart@yandex.com
//reverbnation.com/katielynnstewart or @txKatieStewart
Bashara/Klaras Jazz Duo
Greg Bashara and Evan Klaras
Sax and Guitar
Sax and Guitar Jazz Duo
Jazz
254-744-2992
egregb@yahoo.com
Mario Miguel
Mario Miguel
Acoustic Guitar, Singer Songwriter

Working Musician

folk, jazz, experimental
777chaoqun@gmail.com
Genesis LSV
Ryan Stanford

Sound & Lighting

ryanstanfordproduction@gmail.com
Please visit our website at genesislsv.com and contact Ryan Stanford for more information regarding rentals or event support.
Erack Entertainment
Joolieman
Piano Bass Organ Keys Drums Production Sing Rap

Working Musician

All and Any….
(254) 300-8152
erack73@gmail.com
Texas Heatwave Band
Charles Burleson
Gig Manager

Working Musician

Event and Party Cover band (70's - 2000's)
(254) 855-4617
info@texasheatwaveband.com
ALICO
Artist
Working Musician
Rap/Trap/Pop
254-400-7975
dejerionrougely50@gmail.com
Stream my most played song & book me for any show https://youtu.be/Cv9m73YlaYQ
Aaron J. Gutierrez
Aaron J. Gutierrez
Drums and Percussion
Working Musician
American, Rock, Blues, Jazz and RnB
ajg5000@earthlink.net
Texas Music Cafe
Monica Shannon
Marketing Director
Recording Services
all original music
254-339-3421
TexasFineArtists@gmail.com
Nexus eSports & Texas Music Cafe
600 Columbus Avenue #102
Waco, TX  76701
Netex Productions
Toney "Daddy T" Rogers
Booking Agent
All
(265) 644-6292
daddyt819@gmail.com
Netex produces shows/concerts for national-level entertainers as well as regional and high-quality local-level bands. If you have a venue please reach out. Let Netex make your event a success.
www.netexproductions.com
Rowdy Folk
Lindsay Oliver
Working musician
Americana/Alt-Country/Country
(817) 528-3402
lindsayshaneoliver@gmail.com
Seth Sammons
Seth Sammons
Musician / Song Writer / Vocalist / Guitarist
Working musician, in Waco since 2008.
Southern style Blues, Country, Rock
seth4pres@gmail.com
The Lindsley Brothers
Trey Lindsley

Acoustic Funk Duo or Full Band

Acoustic Funk, Singer-Songwriter
(202) 509-7883
thelindsleybrothers@gmail.com
Krista Hagglund
Krista Hagglund
Harp
I am a classically trained harpist and have experience playing for a variety of events from weddings, to galas, to bridal showers. Please visit my website for more information: https://www.kristahmusic.com
Classical
(860) 893-5837
kristahmusic@gmail.com

https://www.kristahmusic.com

2-7-2023