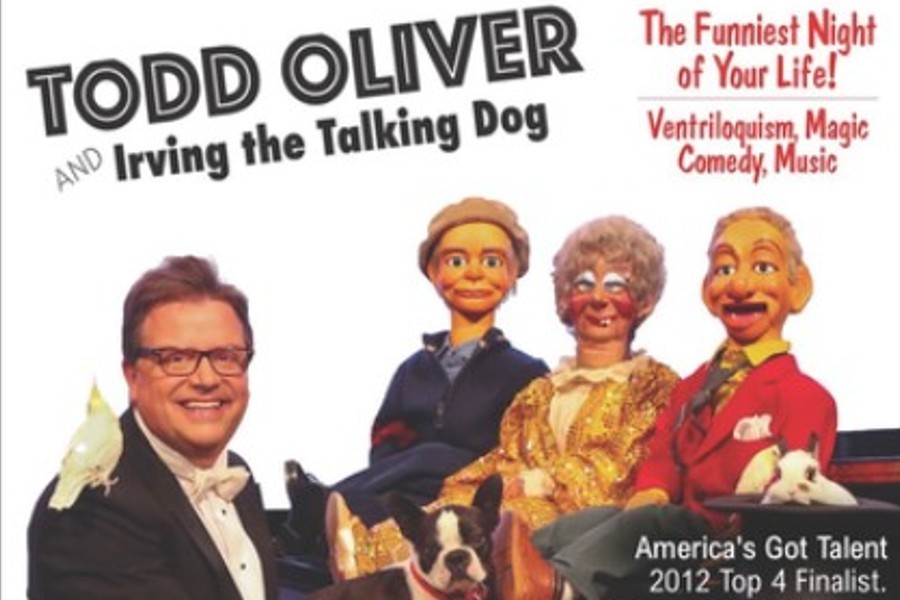 Date
Apr 08 2022
Expired!
Time
Matinee Sunday @ 2p
7:00 pm
Todd Oliver Live
Have you ever met a talking dog, a real talking dog? Get ready, because you're going to meet the funniest comedian on 4 legs! "Irving," with a little help from his friend Todd Oliver, is going to talk up a storm. If you ever wondered how a dog looks at life, this little home-raised companion is going to give it to you straight from the dog's mouth. He won't mince words, and if he does it's Todd's fault.
Todd Oliver grew up loving dogs, ventriloquism, music, and magic. As a young boy, he studied piano, guitar, voice, and the various arts. Along the way, he created some wooden-headed characters and performed them around the world. You'll also meet a bunny named Alice and 3 beautiful birds. Todd Oliver and Friends have been featured on Late Show with David Letterman, The Tonight Show with Jay Leno, The Late Late Show with Craig Ferguson, The Today Show, a couple of episodes of Walker Texas Ranger, and in 2012 they were a top 4 finalist on "Americas Got Talent."
So sit back and get ready, you might even be on stage yourself, Todd turns audience members into real live Ventriloquist dummies!
No outside food or drink permitted
Our bars will be open for alcoholic and other beverages.
There will be no food service for this concert.
We are working with a local nonprofit organization, Arts for Tomorrow, to process our ticketing. You will see their name on bank statements for any tickets you purchase.
Tickets sales are final.