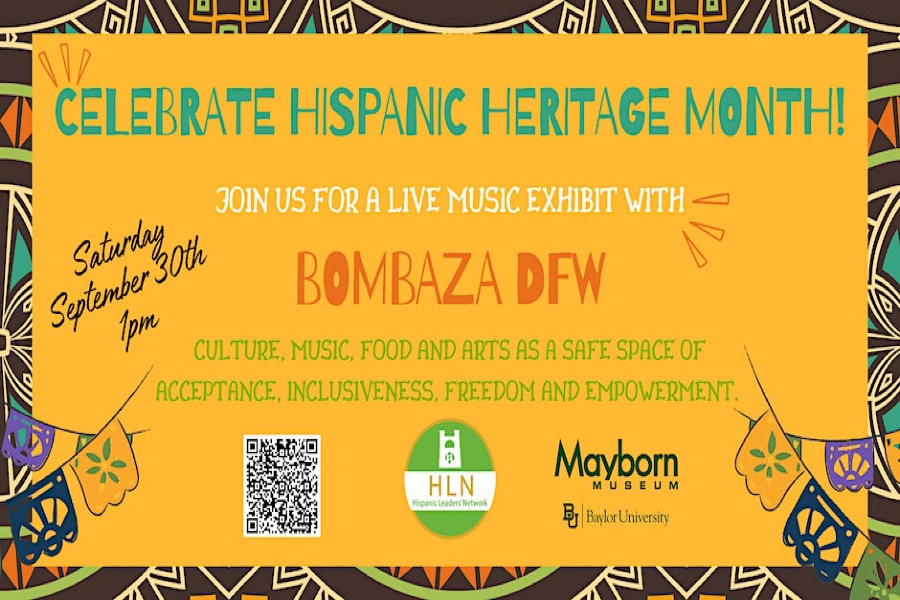 Date
Sep 30 2023
Expired!
Time
Registrants can stay and enjoy the Mayborn Museum after the Hispanic Heritage program until closing time.
1:00 pm - 2:00 pm
HLN Celebrates Hispanic Heritage Month at the Mayborn Museum
Join the Hispanic Leaders' Network for a vibrant and culturally enriching celebration as we honor Hispanic Heritage Month at the Mayborn Museum. Immerse yourself in the rich tapestry of Hispanic culture, traditions, and contributions that have shaped our world. This special event promises to be a captivating journey that showcases the diversity, history, and artistry of the Hispanic community.
 Date: September 30th
 Time: 1:00 PM – 2:00 PM
 Location: Mayborn Museum
 Event Highlights 
 Cultural Performances: Experience the rhythm and soul of Bombaza DFW, an Afro-Puerto Rican cultural movement that was created to raise and build community by developing and fostering cultural awareness. We will enjoy multiple kinds of music, dance, and performances. From traditional folk dances to modern expressions of creativity, our performances will transport you to the heart of Hispanic traditions.
 Culinary Delights: Indulge your taste buds with a delectable selection of Puerto Rican cuisine. From savory dishes to mouthwatering desserts, savor the flavors that have been passed down through generations.
 Community Engagement: Connect with fellow attendees who share a passion for celebrating diversity and heritage. This event is an opportunity to engage in meaningful conversations, make new friends, and foster a sense of unity.
Don't miss this incredible opportunity to come together and celebrate the beauty and significance of Hispanic heritage. Whether you have personal connections to the culture or simply wish to broaden your horizons, this all-inclusive event promises something for everyone.
Admission to the event is free. All families are welcome!
Let's honor the diversity that enriches our community and embrace the wonderful tapestry of Hispanic cultures. We can't wait to celebrate with you at the Mayborn Museum's Hispanic Heritage Month event!
After the event families can enjoy general admission to the Mayborn Museum
Please register on Eventbrite!.
Spread the word, let's make this a memorable celebration together!